LEVERS LOCKDOWN NEWS
September 2, 2020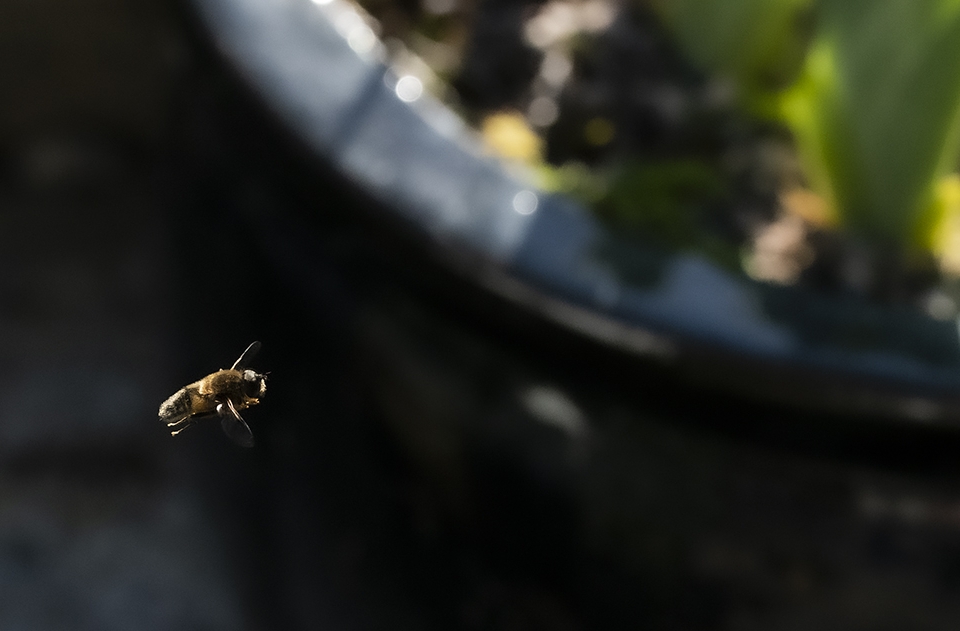 JULY 2020 NEWSLETTER LEVER'S LOCKDOWN HOVERFLIES As with most other photographers Coronavirus has changed the way we work. It has given us a chance to explore other avenues and look at things di
JULY 2020 NEWSLETTER

LEVER'S LOCKDOWN
HOVERFLIES
As with most other photographers Coronavirus has changed the way we work. It has given us a chance to explore other avenues and look at things differently. As with many of us who are lucky enough to have a garden we have probably sat out there or tended the flowers and shrubs more than ever before but in doing so seen the beauty there is in your little patch. You will have taken more notice of living things. When the weather was sunny and warm I watched the Hoverflies. I didn't realise there were so many different species, in fact over 250 in the uk. I set myself a challenge which was to capture an image of one in flight and manage to stop the motion of the wings.They can fly at 3.5m per sec with 120 wing beats per second. They can hover and dart in any direction in an instant. That makes it difficult when trying to photograph them. I did have some success after many attempts. This shot was taken at 1/1500 sec.


JACKDAWS
Every year the local jackdaw population swells and this year has been no exception. Many of the chimney tops in the town have been occupied by their nests. We had two breeding pairs on our roof alone this year. Again during these strange days of lockdown I have spent more time observing these intelligent CORVIDS (Not COVID). We have velux windows in our loft which makes it possible to observe the birds at close quarters. So this year I decided to try and capture them on film. I discovered that they had an uncanny way of knowing when I was pointing the camera in their direction and took flight the moment they got sight of me. After 30-40 days I think they are at last getting used to me opening the window and pointing the camera in their direction. I have got some footage but as yet I have still have to check it out to see if it's suitable to make a short film.This rooftop environment is very different than the woodland treetop canopies where the other corvids make their nests. It is very exposed to the elements but it doesn't seem to bother them. I did think about trying to count the number of breeding pairs in the town but soon gave up on that idea. All I know is that there are a lot of chimney stacks and a lot of potential nest sites. I will send a follow up next month hopefully?

DALBEATTIE FOLK
A few weeks ago I started asking people in Dalbeattie if I could take their portraits for a small project aimed at our local community. I armed my camera with a 200mm lens so that I could keep a 'Social Distance' when taking the shot. I have printed these out in black and white with 9 portraits on an A2 sheet and displayed the images in several of the shops in the town. It will give the locals something else to talk about other than coronavirus and politics.

FACEBOOK SHOP and GALLERY

I have started a simple Facebook Shop on my Lever Photography page. This is yet another thing that I have embarked upon during the lockdown. Its's far from perfect yet but at least it's a start. Should you wish to purchase anything online then you will need to message me to discuss what it is you wish to buy and I will arrange payment at the same time.
In each of the monthly Newsletters I will be featuring at least one piece of my work that is ready for sale. As it is now possible for people to visit Galleries again, I am now in a position to invite you along to see my work first hand. It will have to be on an appointment only basis for a maximum of two people at any one time. For this you will need to phone or text me on 07730302239.
The gallery is doubling as a mini gymnasium at the moment so you might be surprised to see bits of equipment such as a rowing machine, a training bike.and yoga mats. All part of the decor you see..
TODAY I am featuring a silk chiffon printed with some of my gannet images taken whilst on a visit to Bass Rock. The printing was carried out at Glasgow School of Art and the edging by Mustard Ties. The silk is extremely light and can be hung with ultra fine thread anywhere you have space in the house and especially where there might be a slight air flow. This will create gentle movements in the silk as you will see on the video below in slow motion.
Slow motion video of Silk Chiffon gannet hanging. Music by Chris Lever.
Copyright © *Lever Photography*, All rights reserved.


Our mailing address is:
*rogeralever@hotmail.com*

Want to change how you receive these emails?
You can update your preferences or unsubscribe from this list.